ohhh food how i love you!
here are a few yum dishes ive made and one that i cant wait to try over again!
feta tomato omelet, potatoes and mimosas! this dinner was awesome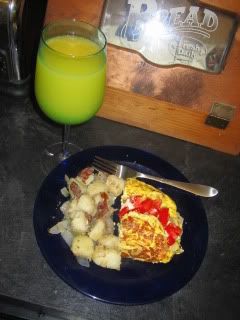 add some italian spices to the omelet... sauté up some onions and add salt and pepper to the potatoes and you have yourself an easy and delish breakfast for dinner!
veggie rancheros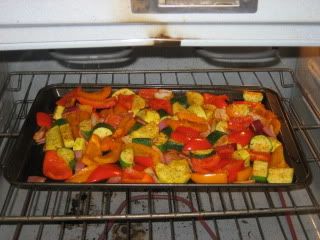 cut up large chunks of your fav veggies... i chose zucchini, squash, red and orange peppers and onions... coat with olive oil and chili powder... cook in oven for 15 min, flip veggies then put back for 15 more minutes... put back into mixing bowl and coat with salsa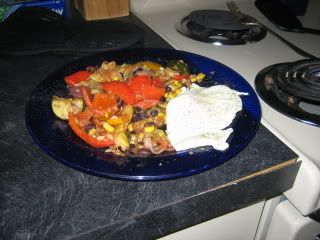 mix the veggies with corn and black beans and served it with a egg or two cooked however youd like... i prefer eggs over easy. this is a weird combo but really good!
this last one was pretty good... its an italian polenta casserole served with spaghetti squash
i wasnt a big fan of the pre made polenta that i bought... im going to make it from scratch next time.
this one is very simple too... i had a recipe for a polenta casserole but barely followed directions! haha
for this i put a layer of polenta at the bottom of the dish... next layered it with sautéed squash, zucchini, mushrooms, onions and garlic... then a layer of mozzarella and diced tomatoes... then repeat but skip the second layer of sautéed veggies. serve over the spaghetti squash. yum